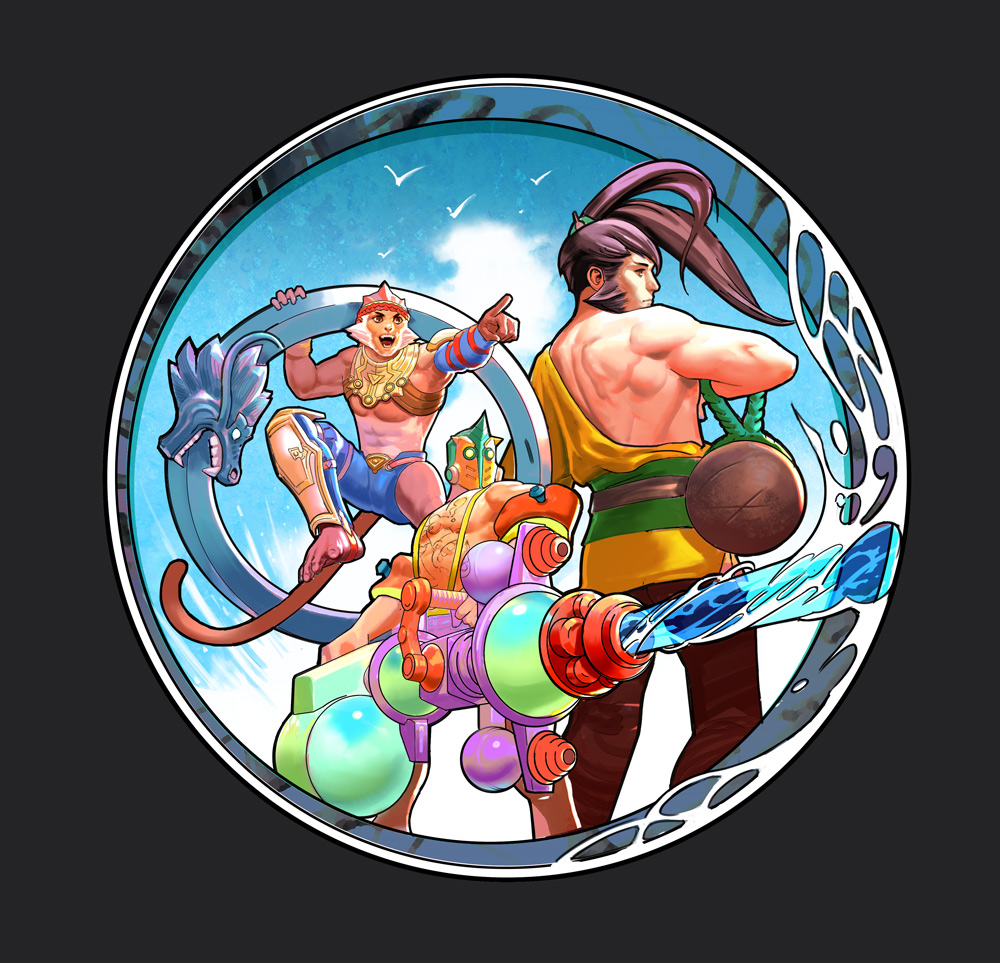 Egg decorating, flowers blooming, water splashing, Blackfeather crooning under maidens' windows — Halcyon Days are upon us!
---
Celebrate Halcyon Days like the Carnies do with a Vainglory Water Party!
From 5PM PDT on April 12 until 12PM PDT on April 17, grab these Opal discounts on 'Summer Party' skins!
'Summer Party' Krul: 250 Opals NOW 199 Opals
'Summer Party' SAW: 250 Opals NOW 199 Opals
'Summer Party' Kestrel: 250 Opals NOW 199 Opals
Get ALL THREE 'Summer Party' skins for just 597 Opals!
Don't miss Skaarf's Halcyon Days Egg Art Contest and watch the app for upcoming Halcyon Days promotions!
---
ALL THE HALCYON DAYS
The titanback barge glides through the choppy water at dawn, the Halcyon Fold a shadow in the distance. Joule and Skye sit by the mech parking area eating sunflower seeds. Glaive and Ringo play the Hand Slaps game… well, Hand and Paw Slaps. Rona sits cross-legged, sharpening an axe, Fortress' big head resting on her leg. Koshka holds Skaarf's tail so he won't jump into the water. Petal and her munions glare at the seed-eaters. Ozo surfs on the titanback's tail. The corner where Phinn stands dips lower than the others; Blackfeather strums a mandolin.
"Almost herring funeral season," muses Phinn.
"What are you talking about?" sings Blackfeather.
"You know, Halcyon Days, when you have the herring funeral."
"Ah, Halcyon Days," trills Blackfeather. "Snow melting, flowers blooming, days growing longer and warmer, and of course: the kissing contest."
"The what now?" says Joule.
"The kissing contest, where the men line up to kiss the lady judges, and the winner is the year's Kiss King. Of course," brags Blackfeather, "I have held the title of Kiss King five years in a row."
Joule spits a shell out over the edge. "Ain't no kissing contests in the Lower Quarter," she says. "For Halcyon Days, we build robots! Then we have a robot parade, and on the last day, we fight them."
"Doesn't that break the robots?"
Joule spins around, dropping her handful of seeds. "Who said that?"
"Over here." Taka's fluffy tail appears from under a box. He peeks out, grinning.
"Oh! Well, yeah, the robots break. Fighting breaks things. But we build all new ones the next year."
"Where I'm from, we do spring cleaning and we get haircuts," says Taka, and crawls out of the box to reveal a freshly trimmed tail. "The Halcyon Days start when the first cherry blossom appears. The rest bloom soon after, and we all go to the orchards to have picnics under the trees."
"We hunt for eggs," pipes up Rona.
"Do eggs hide where you're from?" asks Glaive, whipping one huge paw over to slam Ringo's knuckles.
Rona sticks out her tongue. "After the Long Dark, we get a few days of thaw. We dye them bright colors and the Halcyon Skvader hides the eggs in the longhouses…"
"Skuv-what?" says Joule.
"…and the children search for them."
One of Fortress' legs kicks in his sleep.
Glaive slams Ringo's hand again. "During the Halcyon Days festival, Grangor kits team up to test themselves on the War Path. They may not leave the Path until one team is beaten all the way back. It is a good warmup after months of being stuck in our caves during storms."
"FLAGGR VTHR BARF," says Skaarf.
"True," says Koshka, patting Skaarf's head. "Those kids do sound scary."
Glaive grins. "Well. It's not just fighting. We also have a kissing contest."
"Really?" cries Blackfeather, the mandolin music stopping short.
"No," says Glaive.
Ringo shakes out his hand, all red and scratched from losing. "You all have tame Halcyon Days celebrations. Haircuts? Eggs? Carnies go crazy for Halcyon Days. We have singing, dancing…"
"And a Water Party!" calls Ozo, swinging up from the tail to land on Ringo's shoulders. "We throw water at each other all day until we're sopping wet as spring flowers."
"Drenched buffoons will never be as pretty as spring flowers!" yells Petal, her leafy fist pumping. "For Halcyon Days, us plants play Explode The Munions!"
"What kind of a celebration is that?" asks Skye.
"A crazy one," mutters Ringo.
"Rude," says Petal. "It's to ensure a lucky harvest. Here, I'll show you…"
"No!" the other heroes shout, scattering away from her.
"GBBBBL!" blurts Skaarf.
"Those seem like very nice celebrations," says Skye, distracting Petal from her spring party trick, "but where I'm from, we eat sweet rice cakes, play games, give gifts to the elderly, and the Butterfly Keepers tell our fortunes."
"How do you tell a fortune with a butterfly?" asks Joule.
"The Butterfly Keepers have gardens enclosed with netting," says Skye, her arms arcing overhead. "You stand in the center, and whatever butterfly lands on your nose first has a meaning. If it's red, you will fall in love. Yellow means fortune. Blue means bad luck. White means death. Black means life will change."
"I knew that butterflies had powers," whispers Koshka.
"But wait!" cries Blackfeather. "We never discovered why Phinn's… people, shall we say, hold funerals for herrings."
Phinn chews on his bubble pipe as all eyes rest on him. "I don't remember. 'Tis the end of herring season, so maybe we're just glad it's over."
The titanback claws its way onshore. Morning fog lifts off of the Halcyon Fold; flowers burst open all over the jungle and baby birds screech for food in the trees. The heroes disembark and wish one another luck.
---